Camp is over.
I feel kinda...free.
after a year of planning, praying, and preparing, it's over and there I've got nothing on the agenda until school starts!
I'm trying to figure out what to do with my time now that it's over.
But it's been kinda great just hanging out with my husband and the kids, with nothing on my chest to plan for! Since the weeks before camp, things were crazy in our house with camp material everywhere.
Right now, i'm gonna work on a couple things.
i'm trying to figure out how to really deep clean my floor.
With the kids coming in and out of the house, shoes or no shoes, the kitchen floor has a consistent sticky feel to it.
they like to slide across the floor, dance in the kitchen, do handstands, eat, drink, and do all that fun stuff there.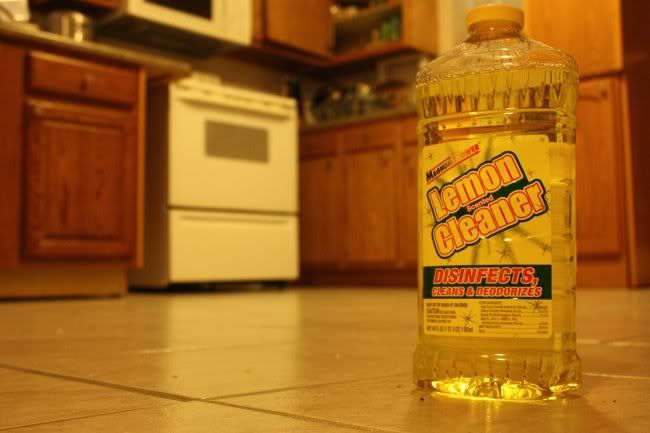 My
swiffer
is
not
doing what it should be doing, no matter how many times a day i run that things over the floor. it doesn't seem to help.
so, i'm moving up to an actual mop.
and then down to my hands and knees.
i really don't mind.
i enjoy the cleanliness of the house for the few hours of the day that the kids aren't here.
the other thing this week is this lil man,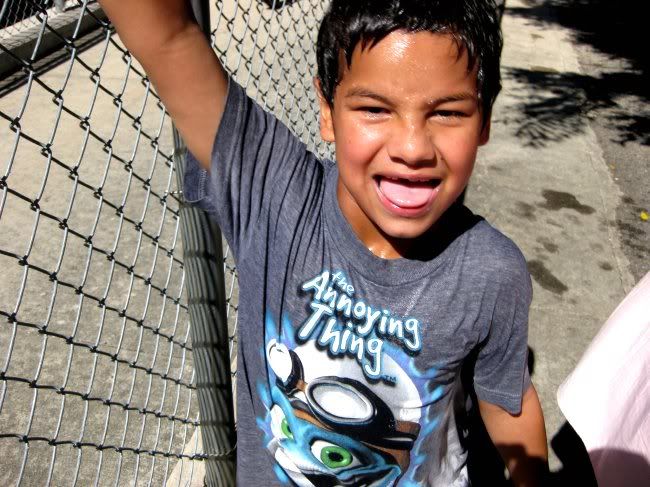 is determined to learn how to swim.
because he wants to go down a certain slide at the water park that goes into deeper water.
and he wants to jump off a diving board without a life vest.
so this week we'll be practicing.
let's see, something else that's been happening...
the Bible Camp made it to the front page of the Storm Lake Times.
which was really pretty cool.
We have no idea how they heard about the Bible Camp.
some one told me that when the Times heard about the Bible Camp, they dropped the other story they were working on and hurried on over to take pictures.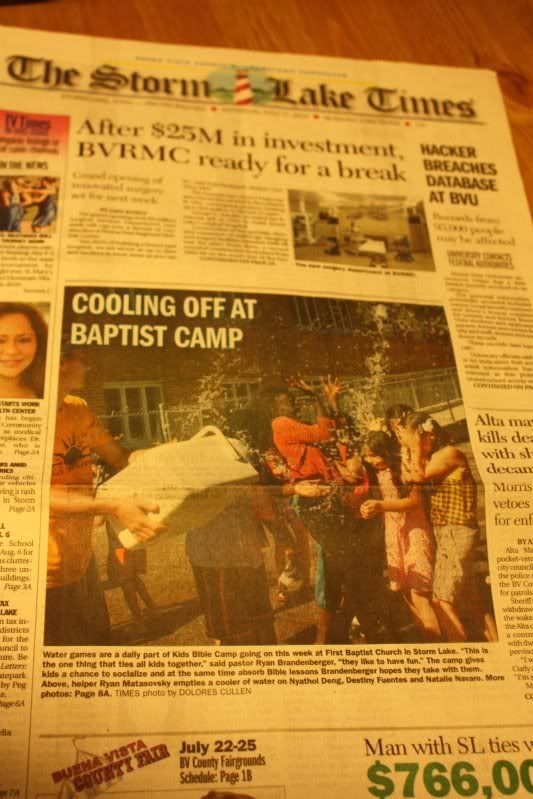 however, we weren't too happy with the title "BAPTIST CAMP" on the front.
because, well, it wasn't a BAPTIST camp at all.
it was a BIBLE CAMP, all our volunteers were from churches and denominations from all over the area.
that's what made it unique and a definite Bible Camp.
some that we have talked to said that people in this area are used to titling things by denomination. and since it was taking place at the baptist church, that's why it was label as such.
i don't know. i'm not used to all these labels of denominations.
Born again, Bible Believing. Saved by Grace.
I'll leave it at that:).
but on the inside of the paper were more pictures.
and for some reason, it was called a
Bible Camp
on the inside.
we thought the pictures were really pretty sweet:).
I think back, and I get excited.
God is really so amazing.