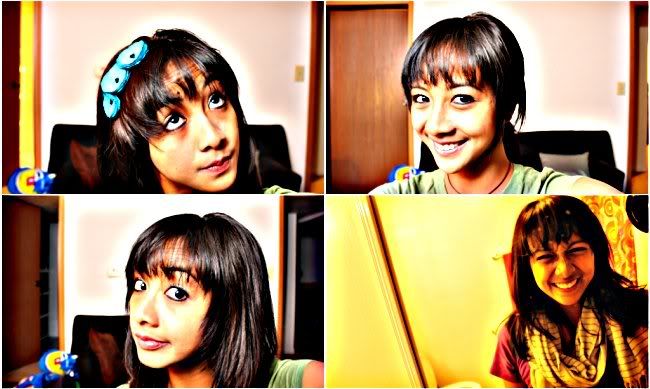 i was at the point yesterday that i was trying to hide when i saw my neighbor outside. he said goodmorning.
what could i do?
i said morning back.
and then ducked into my car with super fast speed.
and told ryan to hurry to the salon.
the exact words of the lady there was,
"wow, you really hacked at this."
thank you.
that's why i'm at the beauty salon.
she fixed my mullet, so it doesn't look as...well, mullet like.
and i now have bangs, because, that's what i hacked at.
but she made it all better.
except that i kinda look like a mushroom head, when i put my hair in a ponytail.
(at least that's what one of the kiddos here told me.)
do you think i look like a mushroom head?
either way, that's my fault. lesson learned.
don't hack at your hair if you don't like it.
the lady at the salon made me promise i wouldn't do anymore "
kitchen cutting
" before she released my from the chair.
and then she told me that i was "so dang cute."
i thought she was going to pinch my cheek.
i think it's cuz my cheeks stuck out when i was testing out how i looked when i scrunched my face up.
so, anyways, here's to my new look! i'm getting used to it. my hubby seems to like it:).